If you're one of the many people who has a period, you'll know that they're usually bad enough without the added worry of environmental guilt and dreaded eco-anxiety.
You recycle, you compost your food waste, and you've sworn off plastic straws but what about your monthly period? Having a plastic free (or mostly plastic free) period isn't as daunting or difficult as you may think.
Read on to discover how to make your period more sustainable, without having to compromise on comfort or peace of mind.
Organic Tampons, Biodegradable Pads, and the All-Important Applicator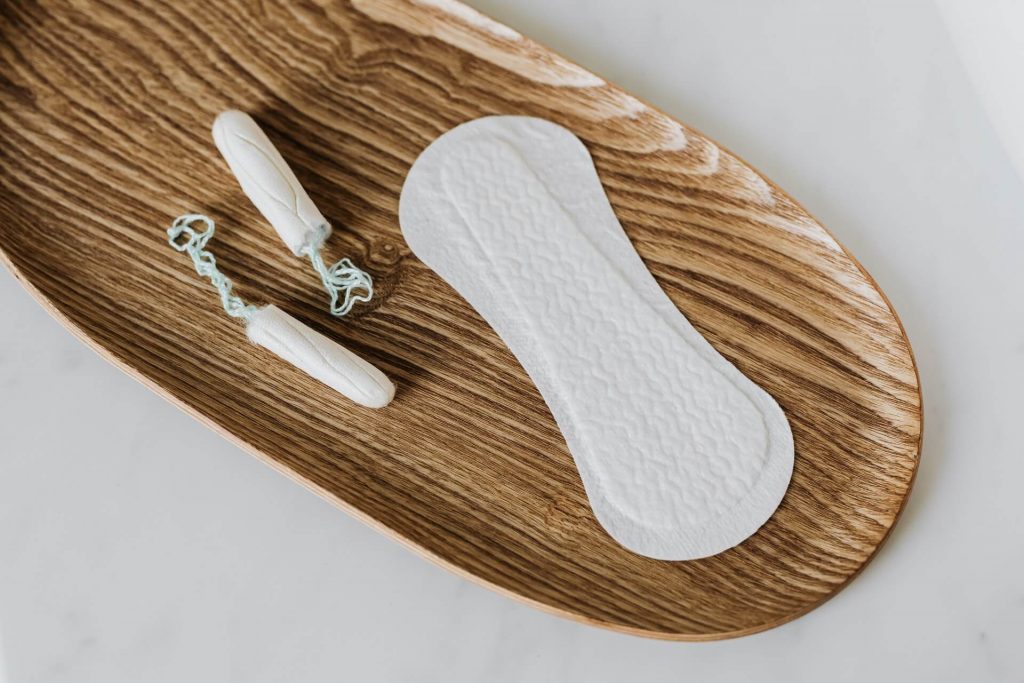 Although advances in technology have made menstrual products more discreet, more comfortable, and easier to use, their plastic composition and disposable nature means they are not so great for the environment.
Tampons and pads are probably the most commonly used menstrual products, but they both contain a significant amount of plastic. And the fact that tampons often get flushed down toilets means they can end up damaging sewage systems and make their way into water ways, which is not so great for the ocean plastic problem.
Mainstream tampons are typically made from a mixture of viscose rayon and cotton (plus added chemicals). The string, applicator, and outside wrapper are made from plastic.
Pads tend to contain even more plastic; their leak proof base is typically made from polyethylene and the thin, flexible absorbent part is made of leak-proof polypropylene, and that's before we add wings and the plastic packaging.
So, what's the solution? Simply swap out regular pads and tampons for organic, biodegradable products.
There are a number of products out on the market, such as female founded &Sisters, who commits to dedicating 10% of their profits to support women's health, education and economic empowerment across the world in an effort to end period poverty.
It's possible to buy &Sisters applicator tampons and pads from Green Outlook, which is a small, Irish, independently owned business, meaning you are shopping locally and cutting down on plastic all at once.
Ilo (pronounced eye-low) is another female led company that is committed to creating organic, biodegradable menstrual products that give back to the community, with 50 percent of Ilo's net profits going to not-for-profit charities in Ireland. Boxes of ilo tampons contain a variety of sizes, meaning that as your flow changes, you'll have the right product on hand, ilo tampons are also available at Green Outlook.
There a number of other brand available such as Kind, Flo, and Dame. Both Kind and Flo provide organic, biodegradable applicator and non-applicator tampons and pads. An extra bonus is that the outer wrapping of their pads is made from biodegradable film.
Of course, one of the most wasteful and polluting items associated with tampons are the plastic applicators, all of the products mentioned above are available with cardboard applicators or without. Obviously, cardboard will break down quicker than plastic, but because of hygiene reasons cardboard and plastic applicators cannot be recycled.
This is where Dame comes in. Dame has created the world's first reusable tampon applicator. It does cost a pretty penny (€35 for a reusable applicator, tampon storage tin, travel wallet, and 6 organic tampons), but considering the applicator is a one-time purchase, and is meant to last for life, it's probably a good investment.
Period Pants and Reusable Pads
Although two different types of products, period pants and reusable pads work in much the same way.
Period pants are underwear that have an absorbent lining, meaning that you wear them like normal underwear, but they absorb your flow. You wear them, wash them, and then re-wear them. They can be used as a stand-alone product or they can be used in conjunction with tampons or menstrual cups. They are also particularly good for making sure you don't get caught out, and they're a handy item to use in the days leading up to your period or in the couple of days after.
There are a variety of brands on the market, and I'd say more will emerge over the next few years. Thinx is probably the most well-known producer of period pants. Thinx provide a number of different styles and fits, including high-waisted briefs, hipsters, shorts, and thongs ranging from a size XXS to 3XL. Their super absorbency pants can hold up to five tampons worth, so they've got you covered.
Other brands that provide period proof underwear include Knix, Pantys, and Dear Kate. Much like Thinx, all of the above brands provide a variety of styles, sizes, and absorbency levels. Each brand provides ample information on their websites so you can find the item that will work for best for you.
Just like the Dame reusable applicator, period pants do not come cheap, but they are a one-off purchase so once you have them and look after them well, they should last you years. It's also worth noting that the three brands mentioned offer different levels of discount when you buy multiple items.
Reusable pads are another option if you're not ready to try period pants or if they're outside your price range. Reusable pads can be worn, washed, and re-worn. They are generally made of a breathable fabric so are more comfortable than their disposable counterparts and are held in place by wings that clip together.
A good place to start with reusable pads is Imse Vimse, who produce a variety of cloth pads that can be bought directly from their website or from Green Outlook.
Menstrual Cups
And finally, we have the menstrual cup. These have been around for years but have only recently shed some of their hippie-dippie-credentials and are now becoming a socially accepted way of managing your period (Tampax now produce a menstrual cup – you can't get more mainstream than that).
A menstrual cup is an egg or dome shaped device that is typically made of medical grade silicone, the cup is folded and inserted into the vaginal canal where it "pops out" and stays in place due to the suction the cup creates. Then to remove, you pinch the base of the cup to break the seal, empty the contents down the toilet (or in the shower), rinse the cup and reinsert.
To keep your cup clean in between uses, boil in water for five minutes and then store away until you need to use it again. Cups generally come in two different sizes, one size for those who have not given birth vaginally and those who have. Some brands also have a third smaller size, for teens or for those who need a smaller size.
There is a plethora of menstrual cups on the market, it really is up to personal preference as different companies have different ethos and different cups will have different designs and firmness.
Check out this guide to menstrual cup firmness for a full overview of the most popular brands.
A non-exhaustive list includes: OrganiCup, Diva Cup, Cora (who also do tampons, pads and period underwear), Lily Cup and the Mooncup.
Thanks to the internet there is a vast array of information and knowledge out there concerning different menstrual products; there are articles and vlogs and Instagram posts, we've tried to give a general overview here, but it is a good idea to do your own research into something which really is very personal.
Different People, Different Needs
We hope you found some of the suggestions above to be useful, but it is important to remember that everyone is different and has different needs. What may work may work for one body may not work for the next.
That's not to mention the issue of access and privilege when it comes to the latest sustainable products. A lot of the above products are expensive when compared to mainstream menstrual products, and they only tend to be available online or in health stores (although pharmacies do seem to be getting better at stocking menstrual cups and organic, biodegradable menstrual products).
Hopefully, you have been inspired to switch up your period routine, but if that's not an option for you, that's ok, there are plenty of ways that we can continue to be more sustainable in our day to day lives.